TRAPS FOR MOTHS, CODLING MOTH AND LEPIDOPTERA
Natural method against codling moth and apple worms
(click on the trap for instructions on how to use it)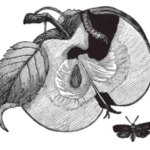 In the orchard, insect traps are an indispensable tool to combat what we commonly call apple worms, but which also infest pears, nuts, medlars, plums and many other fruits. These are lepidoptera, carpophagous (i.e. fruit-feeding) butterflies that deposit their eggs on plants. The larvae of these eggs feed on the fruit, digging tunnels, just when it is ripening and treatments are no longer possible. The harvest is ruined.
HOW TO AVOID WORMS IN FRUIT
When the larvae become butterflies, they reproduce by carrying out further generations and this is where action is needed: by trapping the adults, excessive proliferation and, consequently, excessive infestation of crops is prevented. Among the most effective natural methods available for controlling codling moth, lepidoptera and orchard moths are Tap Trap and Vaso Trap, selective traps with chromatic attraction, and Sfera Trap, a non-selective glue trap, which guarantees constant attraction day and night.


THE ADVANTAGES OF ECO-FRIENDLY FOOD BAIT TRAPS
They are used with a home-made bait
They prevent the rain from diluting the content, which would decrease the effectiveness of the bait
They are suitable for the defence of all types of fruits
The bait tailored to attract the particular insects to be trapped
They can be used in all seasons and all year around, depending on the presence of the insect to be caught
They do not pollute
They are recyclable
They are re-usable
they make the use of pesticides unnecessary
THE ADVANTAGES OF USING THE GLUE TRAP SFERA TRAP
Very attractive yellow colour in daylight hours
Prolonged attractiveness at night thanks to an internal LED
Also ideal in closed environments such as food storage warehouses
It can be used with pheromone lures

MORE TRAPS AND LESS INSECTICIDES
(If you want to learn more about the importance of natural defence, you can find some articles here)
Take a look at all the News of our blog
To find a Tap Trap dealer in your area or to ask for information, please fill in the form