Codling moth traps help to prevent what we commonly call the apple worm. The codling moth is in fact a parasitic moth that, like the fruit moth, is among those lepidopterans that cause the most damage to orchards.
Codling moth larvae mostly attack pome fruit plants, damaging the fruit right at the ripening stage. An attack by the codling moth compromises the harvest because at this stage of fruit ripening it is no longer possible to carry out treatments. The only solution is prevention: in order not to find larvae in the fruit, it is necessary to catch as many adults as possible.
TRAPS TO FIGHT CARPOCAPSA WITHOUT INSECTICIDES
To fight the threat without using insecticides, it is necessary not to give the codling moth time to reproduce. This can be done in a totally ecological way with selective mass trapping of adults: this is a lepidopteran capture that does not harm useful insects, implemented with selective food baited traps.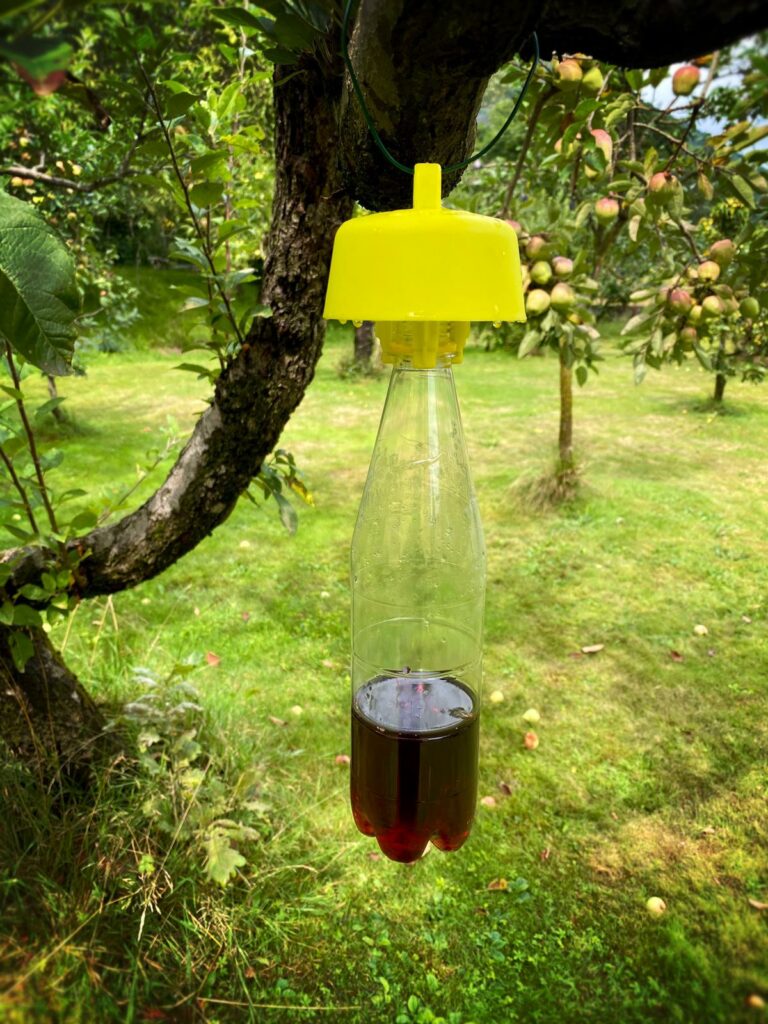 Eco-friendly mass trapping trap Tap Trap for codling moth placed in an orchard
(Photo: Augusto Chiarle)
HOW THE MASS TRAPPING WORKS
Lepidoptera perform several generations a year: the first adults emerge when temperatures reach 15-20 degrees, around May (depending on the area you live), which is the ideal time to set the first traps. The larvae become adults rather quickly and immediately start to reproduce, so if you have not had a chance to set traps since the beginning of the season, you should set them as soon as you can and keep them in the field at all times: the aim is to limit the possibility of the codling moth reproducing.
WHICH FRUITS SHOULD BE DEFENDED AGAINST CODLING MOTH
The codling moth attacks not only apple trees, but also walnut, medlar and pear trees.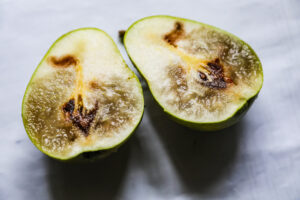 The fruit moth, on the other hand, attacks both pome and stone fruit trees:
Peach
Apricot
Cherry tree
Almond tree
Apple tree
Pear
WHEN AND WHERE TO PLACE TRAPS
In order to fight all types of lepidoptera, including the codling moth, use the Tap Trap selective top-trap, which allows the capture only of the target insect (that is why it is called a selective trap) without risking damage to useful insects. Tap Trap is a top-trap that is applied to plastic bottles of mineral water and soft drinks. It works thanks to its high colour attractiveness (it is a very intense yellow colour that attracts the insect) combined with the food bait to be inserted into the bottles, which is conveniently prepared with ingredients we all have at home.
Where to put Tap Trap: on the plant to be defended, hung at eye level and well exposed to the sun.
When to put Tap Trap: starting in May (or, depending on the area of Italy, when temperatures reach 15 – 20 degrees).
How many Tap Traps should be used: one trap per plant should be placed.
When to remove the traps: traps can be left until October – November.
HOW TO PREPARE A MOTH ATTRACTIVE BAIT
The recipe for the bait to be used with Tap Trap is similar to mulled wine:
Flavour 6 or 7 tablespoons of sugar to one liter of wine
Add 15 cloves and half cinnamon stick.
Leave it to rest for 15 days
Blend the mixture in 2-3 liters of water
Pour half a liter of the obtained mixture into each of 8 bottle-traps
Fit Tap Trap to the neck of any plastic bottle
Hang Tap Trap to the tree
If you do not have time to wait for the macerate to be ready, you can flavour the wine as indicated and boil it for a few minutes in a pot. Once cooled, you can use it immediately to prepare the traps.
HOW TO KEEP THE BAIT ACTIVE
The bait should be replaced every 20-30 days or so: throw away the old bait and do it again. If it has not been 20 days but the trap has many catches, it is a good rule to change the bait immediately so that its flavour is always attractive and interesting to the target insect. This type of attractive substance is also attractive to wasps and hornets, which are often in search of that sweet-sour taste reminiscent of ripe fruit: by preparing a single trap, therefore, you can defend fruit plants from more than one type of harmful insect.
USEFUL TIPS
Where to buy Tap Trap
To find out which dealer is closest to you, please send an email to info@taptrap.com, or fill out this form
Customer Care
Read more
This article was written and edited by
Maura Rizzo
All photos, unless otherwise indicated, are Copyright Roberto Carello et Vanda Bellini.