Flies can be really annoying, especially when they get into our homes and bother us in the kitchen or during outdoor meals. It gets even more frustrating for people who live in the countryside or close to a farmhouse with animals. In those areas, there are not only more flies, but we also know where they like to hang out even before they come inside.
Usually, we use flypaper, those sticky yellow sheets we hang up. They work okay in places like the basement or garage, but they're not great in the kitchen because they're not very clean.
But there's a smarter way to catch flies that considers the idea that if we catch more of them outside, we'll have fewer inside. You can do this with two different types of traps that work well both day and night.
FLY TRAPS WITH FOOD BAIT
Flies and blowflies are drawn to food, but they don't just magically appear from under the table—they come into the house from outside. That's why an outdoor food bait trap is perfect for a completely eco-friendly way of catching a large number of them.
TAP TRAP AND VASO TRAP
In this case, both Tap Trap and Vaso Trap consistently work because their appeal is so strong and intriguing to flies that they go into them even during the night. The flies are drawn in by the trap's yellow color (which is well-known for being attractive to insects) and the potent lure of the bait.
RECIPE FOR TAP TRAP BAIT
To use Tap Trap, you'll need a 1.5-litre or smaller plastic water bottle (such as Coca Cola).
Fill half a litre of water and add a couple of sardines (or raw fish scraps) into the plastic bottle.
Attach Tap Trap to the neck of the bottle.
Hang the trap from a plant about 10 meters from the house, at eye level, and ensure it's

well-exposed to the sun

.
RECIPE FOR VASO TRAP BAIT
If you have empty glass jars at home, you can upcycle them to create a fly trap with Vaso Trap:
Put 350 ml of water and a couple of sardines (or raw fish scraps) in a 1 kg honey jar.
Twist Vaso Trap half a turn into the mouth of the jar, as if it were its lid.
Hang the trap from a plant at eye level or place it on a stand, about 10 meters from the house, and make sure it's well-exposed to the sun.
Tap Trap and Vaso Trap for flies are specifically designed to ensure that once the insect has entered, it can't escape from the trap. Moreover, their domed shape not only shields the bait from dilution caused by rain (watered-down bait loses its appeal) but also helps effectively spread the scent of the bait without excessive dispersion. This enhances the traps' selectivity.
WHEN TO REPLACE FLY BAYT
The substances created through the maceration of captured flies are extremely appealing to the flies themselves. That's why, unlike bait for other types of insects, it shouldn't be replaced frequently—only when there are no more interested flies visible around the container. Here's an example in this video
GLUE TRAP FOR FLIES SFERA TRAP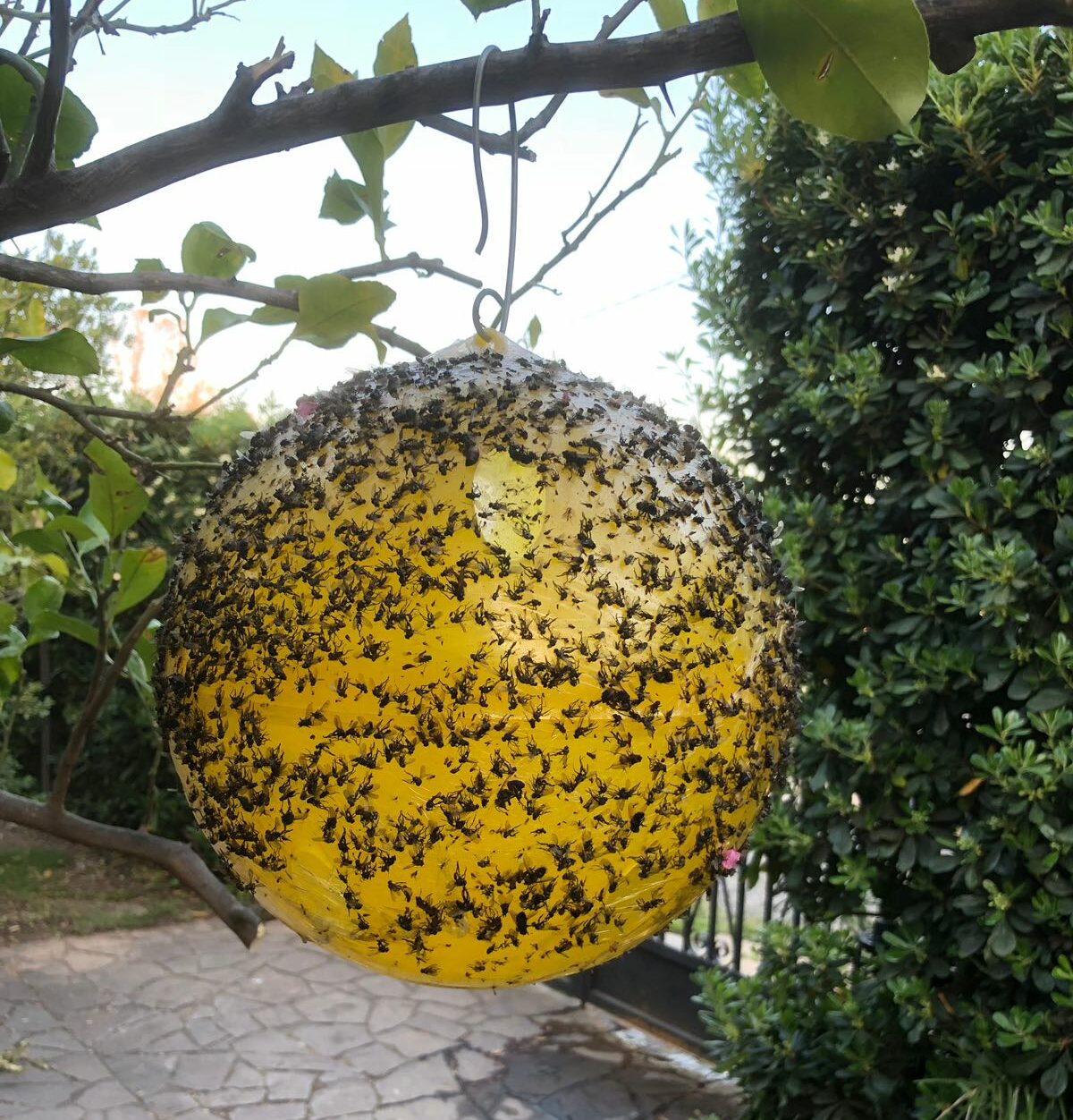 When it comes to real insect infestations, Sfera Trap the glue light trap is a real help.
Like Tap Trap and Vaso Trap it has a very attractive yellow colour during the day, but its main feature is its nocturnal brightness given by its internal LED, which makes it capable of constantly catching H24.
HOW TO USE SFERA TRAP
The trap is covered with nylon (a supplied bag or food film)

Spray the trap with insect glue

Hang the trap where needed thanks to its practical hole

Replace the nylon when it is full of insects
Sfera Trap can also be used indoors (not at home): if you are a farmer or have a small barn or chicken coop, Sfera Trap is really great, read how it is used for cattle flies.
USEFUL TIPS
Where to find Tap Trap, Vaso Trap e Sfera Trap
To find out which dealer is closest to you, please send an email a info@taptrap.com, or fill out this form
How to get advice and assistance
Read more
This article was written and edited by
Roberto Carello and Maura Rizzo
All photos, unless otherwise indicated, are Copyright Roberto Carello et Vanda Bellini.